My services >


My current interests
|
V

Mexico Challenge!


Goats!


Geocaching


Track your money


Railfanning


The most important thing in this life is to know where you will spend eternity. The images below are the front and back of a 5 by 8 card with verses from the Bible. These verses talk about salvation according to the Christian Bible. Biblical salvation (being saved from God's wrath on unrepentant sinners) offers the hope and reality of a better life now as well as assurance of where you will spend eternity.

This is the front

This is the back

If you can't read this or have a text only browser, click here.

My parents selected these verses and designed the card. They have distributed these cards on street corners in New York City and other places.

God does the saving (John 6:44). A saved person will begin to obey God's commandments (John 14:15) and want to learn more about Him (Psalm 1:1-2). There are many more verses that talk about Salvation, and all too often these verses are overlooked. I believe the serious Christian should consider these verses and what they say about salvation.

Salvation is only through the Messiah
The Bible makes it pretty clear that salvation is only through Christ, and not through any other religious leader, profit, or supposed deity. This is clear in the first and second commandments, Acts 4:12 quoted below, and this verse:
John 14:6 "Jesus saith unto him, I am the way, the truth, and the life: no man comes unto the Father, but by me."

Salvation and the need for baptism?
While I don't know of a verse that says presicely that you must be baptised to be saved, Acts 2:38 comes pretty close. Do we need to be baptised? I think of the man on the cross next to Christ. He certainly wasn't baptized in any sense that we would recognize as baptism, so it would seem the answer is no. But it IS certainly appropriate to be baptised after salvation. Here's what the Bible says. Peter had just been asked "What must we do to be saved?" And peter said:
Acts 2:38: "Then Peter said unto them, Repent, and be baptized every one of you in the name of Jesus Christ for the remission of sins, and ye shall receive the gift of the Holy Spirit."

Salvation and the need for repentance
Acts 2:38 places as much emphasis on baptism as it does on repentance. Repentance involves confessing our sins before God and asking Him for forgiveness. It also means turning away from our sin and living righteously.

Salvation and the need for living righteously
Romans 6:23 is often used to show that salvation is a free gift. But this verse is linked with an entire chapter that talks about the need for living righteously. In this context, it is clear that verse 23 is a summary verse. The overall message of this chapter can better be seen when verse 22 is included, as it is here:
Romans 6:22 "But now being made free from sin, and become servants to God, ye have your fruit unto holiness, and the end everlasting life. 23 For the wages of sin [is] death; but the gift of God [is] eternal life through Jesus Christ our Lord."

There are many other verses that stress the importance of living righteously:
1 Peter 1:16 "Because it is written, Be ye holy; for I am holy."
Matthew 5:20 "For I say unto you, That except your righteousness shall exceed the righteousness of the scribes and Pharisees, ye shall in no case enter into the kingdom of heaven." Romans 3 19-28 also talks about the need for Christ's righteousness.


But the Bible also says:
Romans 3:10 "As it is written, There is none righteous, no, not one"


How then can we obtain a righteous life?

Salvation and the need for imputed righteousness
Since no one can meet the righteous demands of the Law of God, we must have Christ's righteousness placed on us so that we can appear righteous before God. This is essentially what imputed righteousness is. The last verse here is key.
Romans 4:1-5 "What shall we say then that Abraham our father, as pertaining to the flesh, hath found? 2 For if Abraham were justified by works, he hath whereof to glory; but not before God. 3 For what saith the scripture? Abraham believed God, and it was counted unto him for righteousness. 4 Now to him that worketh is the reward not reckoned of grace, but of debt. 5 But to him that worketh not, but believeth on him that justifieth the ungodly, his faith is counted for righteousness."

Salvation is a gift, not earned by works
Since righteousness is required for salvation, yet nobody can be righteous in God's eyes on their own, it should be clear that salvation isn't earned by doing good things. Salvation is a gift as these verses make clear:
Ephesians 2:8-9: For by grace are ye saved through faith; and that not of yourselves; it is the gift of God; not of works, lest any man should boast. If it were, how do we know when we've been good enough? Who's defining the terms here? Is it humans telling God what's required for salvation or God telling humans what His requirements are?

Only one Name:
The Bible places strong emphasis on the name of God in a variety of verses. Acts 4:12 links this importance directly with salvation. It says:
"Neither is there salvation in any other: for there is none other name under heaven given among men, whereby we must be saved."
There is more about the significance of God's name on my Bible Lessons page where it talks about God's name.

Want to know more?
If you find yourself interested in learning more about the Bible, a great place to start would be the Bible itself. You might also want to look at my Bible Lessons page.

Whether you find yourself interested in learning more or if you are put off by what I've said so far consider this:
All religions can be classified into two categories. They are either man's attempt to define God, or God's instructions for man. If a religion is the former, how can anyone be sure that religion is right? If you're following that religion and it's not right, you can only hope that God's requirements aren't any higher than what that religion has defined.

The Bible claims to be God's message to mankind. The Bible makes some pretty astounding statements regarding itself, God, the human condition, and God's requirements for humans to avoid His wrath. Even if these claims are not true, the Bible defines a much higher standard than any other religion I know of, and this fact alone should give cause for anyone interested in their relationship with God to study what the Bible has to say carefully.

Anyone who believes their way is the only way to salvation should consider this: God ultimately makes the decision about who is right with him and who isn't. This should be very humbling to anyone who believes they have found the only true way to salvation.

This web site is under ongoing review. I do not claim to have knowledge of all things. As I learn more, I will change what I said to reflect what I have learned. I enjoy discussing anything mentioned on my site, so please feel free to share. All I ask is that you format any correspondence in the form of comments, questions, and constructive criticisms. Please be polite!
Now hold on, the ride is about to begin...
---
Menu of interests
Life after death may seem distant and uncertain especially for a new or non Christian, but the message of Salvation as outlined above also offers hope for and the reality of a better, happier, and healthier life here and now. This is because the Bible's teachings affect and relate to all areas of life. This can be demonstrated through both serious study and fun activities. These activities can help us confirm that what we believe is true, and also help us grow in our knowledge of truth and wisdom. We'll then be better equipped to help others to realize the same things.

With all I've said above in mind, here are some my various interests and hobbies.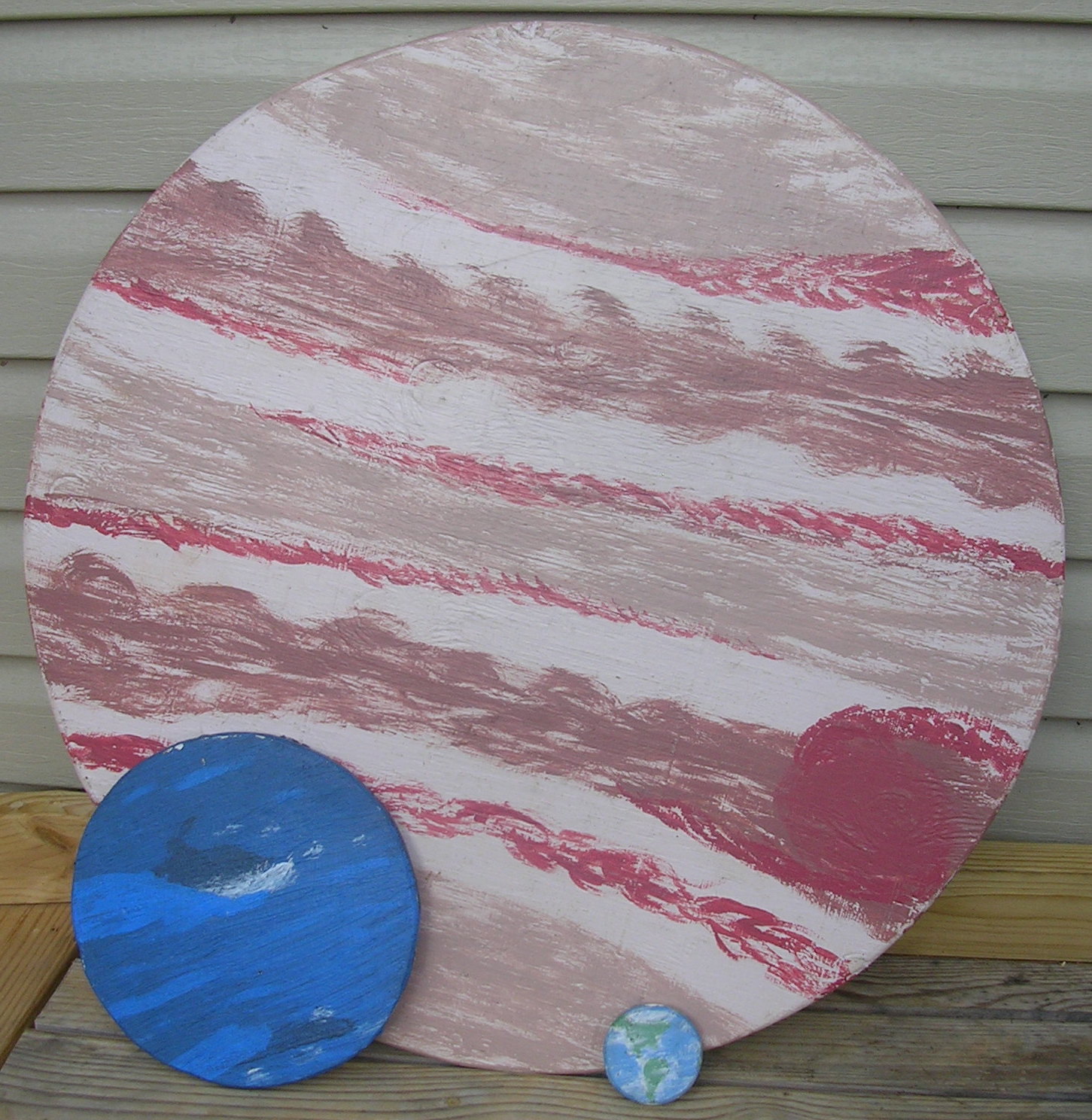 I enjoy Astronomy. Planets, solar system, near and far galaxies, and even the shape of the earth.


I am a Christian. As such, I believe the Bible to be the word of God. If you think the Bible is dull, boring, or irrelevant, you haven't seen this.


I am interested in conservative issues concerning America's government, Constitution, freedom, liberty, truth, and the lives of the people that make up America.
If you think I'm Crazy, Click here.


I believe God provided in nature all the necessary foods and nutrients we need to maintain a reasonably healthy life. Therefore, I am interested in Health and Nutrition issues.


I like to promote things that increase our productivity, and/or reduce our dependence on distant sources for basic needs, including energy and food. This page describes my ideas concerning Self Sufficiency for basic needs


I believe stable Families provide the best building blocks for a stable and civil society.


Here is a bunch of humor that my college friends and I came up with during my years at college.


Click here for a tribute to the Land of MakeBelieve , a children's play land that no longer exists.


I am a fan of Lego bricks. Here are some of my creations.


Click here to view my list of web page links and URL's that I've come across that I've found interesting. I also have a collection of text files with information on various subjects which are indexed here.


I prefer Apple Macintosh computers. I have written some software and done other cool stuff with Macs.


I like to make maps. I have created several maps for at least a couple different organizations. I have also created a software application for the Apple Macintosh computer (pre OS X) that can plot GPS waypoints, effectively creating a map.


I have created a Math flash card program that my parents use as volunteers in a private Christian school. Here are several web videos, a short lesson, and a link to the web version of my program, which focus on the times tables.


I am a railfan, which means I like railroads and trains. Click here to read about railroad stuff that I'm interested in.


Here is my Resume, which includes services I offer and more detailed descriptions of the various experiences I have had that aren't mentioned elsewhere on my site. These include accomplishments, projects I've been involved in, activities I've participated in, jobs I've had, and hobbies I enjoy.


This is a collection of thoughts that I have had on a variety of topics. Please read these thoughts with discretion. Feel free to dissect, discuss, and share these thoughts with others, as appropriate. Please use careful discretion before starting to read a thought, and when you do read a thought, read the whole thing to get the fullest and most intended benefit from it. Comments, questions, and constructive criticisms are welcome and encouraged.


I have many other interests. Click here for information about making Maple syrup, Creation/Evolution, Hiking, Camping, Stamp Collecting, Life Goals, and other things. These things can also be accessed through my Resume.
---
Information About This Site
History of this site:
This web site started as a desire to have a web site. While in college, a friend of mine set up my Unix account to host a web site. For several months, my site had nothing more than my name on it. Then, creating a web site became an assignment for one of my classes. At that point, my web site was born. That was in the fall of 1995. After I graduated college, I moved my web site onto AOL, and it has been there ever since. I have added to it little by little over the years.
Web Philosophy used by my site:
I believe that web pages are best suited for either static information or information that changes frequently but the old information is no longer relevant. When a web page is updated, nobody will know about it unless you tell them. And even when you do tell them, they may not check the page right away. If you then change the information on the site, they may never see what you had there. Also, it's easier to leave a web page as is, making it like a library, useful as a reference for information. For my purposes, I will generally use my web site in this way, which means it won't change much. Most changes will be adding new information, removing outdated information, improving organization, grammar, clarity, accuracy, and the like.
Web site disclamer (IMPORTANT!):
This web site is and always will be a work in progress. I regularly review the materail on this site looking for ways to improve what is here. Your help is much appreciated, and I welcome and am encouraged by all comments, questions, and constructive criticisms. Please send such correspondence to Bill222E@ensingers.com.
E-mail:
I send out an e-mail at least once a year letting people know when I make changes. If you'd like to receive such notification, just send e-mail to Bill222E@ensingers.com, and let me know. When you write, please let me know how you found my web site and the address for your web page if you have one.
Link to my site:
Feel free to add a link from your site to my site. The address is: http://www.ensingers.com/Bill222E
Web page counter:
What's better than a web page counter? How about the number of people who have made initial contact with you through your web site? So far, as of October 10, 2022 I've had at least
184
initial contacts through my web site. Based on these contacts, the most popular page, by a long shot, is Land of MakeBelieve .
This site last updated October 2022
Created by Bill Ensinger Bill222E@ensingers.com. Feel free to respond to anything at this site at this address.
This site was created on my Macintosh using BBEdit Lite.